Wet Rising Mains Testing to BS9990:2015
Wet Rising Mains Testing to BS9990:2015
In light of recent events it is now even more imperative for Property Managers / Owners to abide by the latest fire safety regulations. Dry/Wet risers provide a key fire fighting system for use by the fire services in the event of a fire. In short, they provide charged water at all levels of a building through a network of Pipes and Valves. This allows a fire fighter to access a strong supply of water in local proximity to the fire, no matter what level it is on.
Typical criteria to be tested are;
Flow rate of water exiting the valves.
Pressure of water exiting the valves.
Condition of the system.
Water supply
Signage
Access
The video within this post shows a Flow test using the latest technology Flowpod 3000.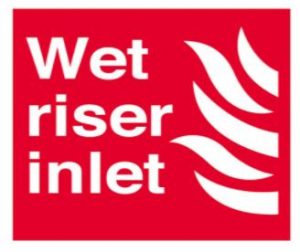 Wet Riser sign
Wet Rising Mains Testing to BS9990:2015